When the WA AIDS Council began over 35 years ago, we formed out of a community response to the AIDS pandemic. We worked hard in those early days, engaging with hard to reach communities, establishing the first needle syringe exchange programme and running care teams so people with HIV did not have to die alone in hospital.
Our organisation and the communities we serve have evolved a lot over the decades. The experiences of people living with HIV has greatly changed with the development of effective treatment and the ability to prevent HIV transmission with undetectable viral loads and PrEP.
Our work has also greatly expanded and our sole focus is no long just HIV. We work with a broad spectrum of communities around sexual, mental and social health and so our name no long fitted the diversity of the work we do.
Our rebranding process
In recognition of our growth as a community-focused organisation, we embarked on a series of consultations in partnership with OKMG. Over 18 months we consulted with staff, community groups, stakeholders and our communities, examining the perception of our brand and feelings about the organisation. The results were clear, we needed a new name and logo that acknowledged our history but looked to the future
On 15 September 2021, we officially rebranded the organisation, launching our new future as WAAC with our stunning new logo
Our new logo
One of the things that was clear from our discussions with various communities was the desire for the new WAAC logo to highlight the community beginnings of WAAC whilst looking ahead to new possibilities.
After many different iterations, we created a beautiful and versatile that we believe fits that bill.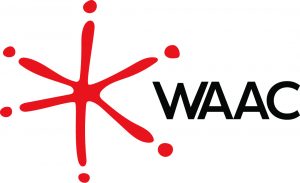 Our new logo takes inspiration from several different places:
The Star of Life– a six-pointed star used in many health fields, which symbolises our work in the health sectors and the importance of sexual health in holistic healthcare.
Aboriginal art – The hand drawn style of the pays homage to Aboriginal art work, including different symbols about meeting and connecting. We operate on Aboriginal land which is imbued with so much history and connection to country. It also demonstrates the need for WAAC to always centre on the needs of the communities we serve.
The red ribbon – The red pays homage to our history and to the universal symbol of awareness and support for people living with HIV,
Our logo reflects our vision. We strive for healthy people who are included and connected in their communities.
We also have several iterations of the logo designed to reflect some of our key communities, including people living with HIV, LGBTQIA+ people, trans and gender diverse people and Aboriginal and Torres Strait Islander people. These versions will be used during key events like NAIDOC, Trans Day of Visibility and Pride.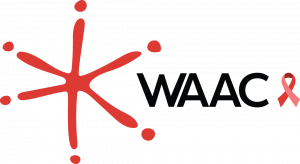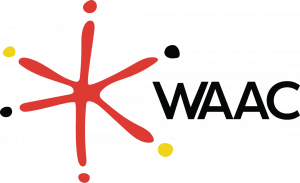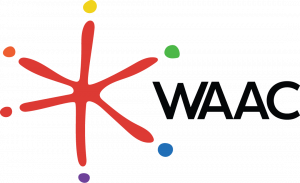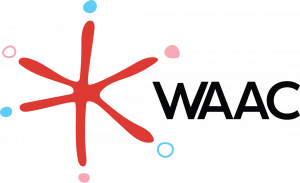 The future of WAAC
It is important that we do not forget the road we have taken to get us to where we are today and as we move forward into new and exciting times we must remember how we got here.
The road has not always been an easy one and it has been filled with challenges that have had people in the community questioning the validity of WAAC over the history of the organisation and certainly the last few years has seen that become more evident.
We continue to refocus and reengage with community and we look forward to what lies ahead.
Frequently asked questions
Does WAAC still stand for the WA AIDS Council?

No. WAAC is not an acronym anymore. We are WAAC, just WAAC

One of the comparisons we like to make is ABBA. The name comes from the first names of each of the four members but it is not an acronym. It's just ABBA and not short for Agnetha Björn,  Benny and Anni-Frid. Just like that, we are WAAC and no longer short for the WA AIDS Council
Why did you choose the name WAAC?

We get that it may be a bit confusing to use the name that used to be our acronym.

However, when we consulted with all our different communities and stakeholders and presented different names, WAAC was the overwhelming winner.

It removed the 'AIDS' from the old name and still holds onto our important history.
The logo kind of looks like a butthole...

We could not agree with you more. It was completely not intentional but we have grown to love it

If any organisation was going to have a logo reminiscent of a puckered sphincter, WAAC is the right one. Butt stuff is kind of our bread and butter.

Other comments is that it looks like a blood splat or a splash of semen when inverted. Again, not intentional but we kinda don't mind.
What's going to happen to the old logo?

Our old name and logo are done and dusted

Now, you will definitely still see it around the place. We've sent tens of thousands of condoms and resources all over WA. Dozens of websites and organisations refer to us and highlight our work.

We know that the old logo won't disappear anytime soon but we are working hard to update everything we send out so that it only has our new branding on it\