How much do you know about PrEP?
Whether you know nothing, a little bit or lots about PrEP, join us for this free workshop at M Clinic on Tuesday, 10 May and learn about whether PrEP is right for you.
This PrEP info night will cover:
What HIV is and how it is transmitted
What Pre-Exposure Prophylaxis (PrEP) is and how it works
Options and ways to take PrEP
How to get PrEP
You'll have access to one of our fabulous M Clinic nurses, who can answer any questions you have about PrEP.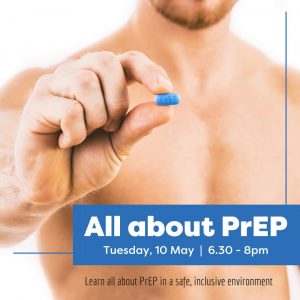 Event details
Date: Tuesday, 10 May 2022
Time: 6.30 – 8pm
Location: M Clinic, 2 Clive St, West Perth
Event registration
The event is free but we request you complete the
RSVP form
so we know how many are coming (free pizza, y'all!).
Find out if PrEP is right for you in a safe and inclusive space. Anyone interested in PrEP is welcome.